It is only the 4th day of March and it has already been quite exciting!
We had a birthday!
Minecraft Style!
I have a Guest Post!
I am honored to have my first guest post ever up on another blog!
The Kids Made Me Do It! went live today over on MaMadeCreations!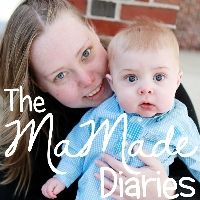 TinyPrints is having a birthday sale!
Today is the last day to save during Tiny Prints' best sale of the entire year. 

Their birthday is this week and from now through March 4, they are giving you the gift of 30% off everything. There has literally never been a better time to order. 

Tiny Prints is the industry leader when it comes to personalized stationery, photo gifts, and more. Whether you need birth announcements, graduation party or baby shower invitations, photo iPad cases or notebooks, and any of your personalized stationery needs, Tiny Prints has it all. 

All of their products are customized to your needs. You choose the photos and text to add to their awesome designs and then…you impress the recipients. 

Oh and the part about there never being a better time? That's because That's their best deal of the year. 

Visit them now (the sale ends tonight at 11:59pm Pacific Time) and choose from any of their products and when you check out, use the promo code BDAY10 to save 30%.

Happy Shopping!
I am going to Vegas!


My hubby and I are taking a trip to Las Vegas!
Call it, a belated honeymoon because we have never had one!
This is the first time that we will be taking a trip with just the two of us!
No one else.
This is also, the first time we will EVER be leaving our youngest. We have not spent a single night away from her since she has been born.
Yes, there is a little separation anxiety going on but, I am super excited none the less!
There is the Luck of the Irish!


There will be blogging!

Yes, there will be lots of blogging in March!
I swear, I am going to get this Advertising thing figured out!

I am working towards meeting all of my Blogging Goals!
and
@CaraBoxExchange
March is pretty exciting for me!
What do you have planned for March?
*Disclaimer: This post contains my affiliate links.